Excellence has been our hallmark since 1987
Shaw's Heating, Air and Plumbing is a customer focused heating and air-conditioning company that was originally started in 1987. Located in Saint Michaels, MD, we employ highly trained people whose goal is to make our company the best service company in Saint Michaels area.
Our company specializes in designing, engineering, and installing complete comfort systems for owners of existing homes and buildings just like yours. We take special pride in the craftsmen we train and employ--a fact you'll notice immediately in the attitude and integrity they bring to your job site. Our entire company works hard to make your experience with us hassle-free and enjoyable. Should we make a mistake, we will do everything in our power to correct it to your satisfaction.
From the professionalism of our sales engineers, to the dedication of our field personnel, we are dedicated to delivering you the best. We take our responsibility very seriously when you place your trust in us. We pledge to always tell you up front what your cost will be to complete your job correctly. We make it a point to go over any details or limitations of the proposed system that will affect your enjoyment of the end result. You are told exactly what to expect up front.
Compare our guarantee with the limitations, fine print and exclusions other companies tend to use to back their work today. Others will typically guarantee only the functionality of the equipment--not your satisfaction with the process or that the finished job lives up to your expectations. This is why Shaw's Heating, Air and Plumbing continues growing with more satisfied customers each and every year. Give us a call for your service needs and see what you've been missing.
The employees & management of Shaw's Heating, Air and Plumbing
---
Giving Back to Small Business
David Shaw, owner of Shaw's Incorporated, a local heating, cooling and plumbing company, said he believes in investing back in the community he serves.
Each year since 2010 David has been closing the business early an afternoon a few days before Christmas.
The whole company meets in front of the St. Michaels Candy Company. David hands out to each employee $50 cash to spend at their will. They have to spend it all that day and they have to spend it at a local St. Michaels business. It's a way that I can give back to my employees and it's a way Shaw's can give back to the local community that supports us all year long.
Shaw's is a small business and we support small businesses.
It's pretty cool playing the part of Santa David says. I really appreciate the employees who have hung in there with me over the years and I really appreciate the local businesses that have supported us all year long too.
That same sentiment has prompted David to give each employee a turkey at Thanksgiving. It's just another way that Shaw's can make a connection with the family.
Building a family of employees is important; David says I want them to know how much I appreciate all their efforts to keep the business strong.
---
Haiti Mission Trip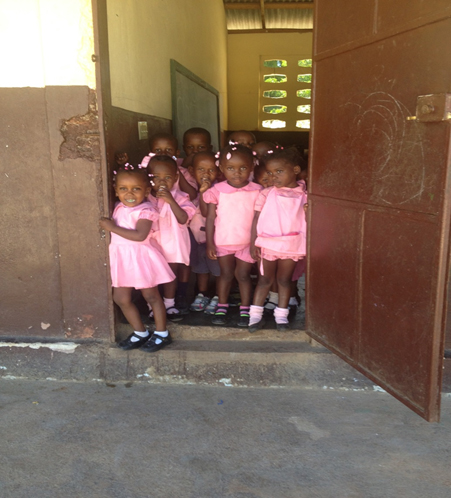 While the Mid - Shore spent January 2016 dealing with the cold and possible snow storms a small group of St Michaels Rotary Club members headed south to a much warmer climate spending time in Bondeau, Haiti as part of a mission trip.
The team leader was Clelia Garrity, Deacon of Christ Episcopal Church, Saint Michaels. David Shaw was one of the 7 team members.
Clelia has visited Haiti numerous times. She has been instrumental in starting the Bondeau Medical Healthcare Program. Bondeau is a very rural, very poor, very remote agricultural area in southeast Haiti. Haiti virtually has no health care system.
The seven member team's goal was to work at a 350 student school in Bondeau . While at the school we did a lot of painting, a small amount of ceramic tile work and we brought hammer drills and fasteners to mount metal storage cabinets in Clelia's Pharmacy at the school. The school is partially funded by the Episcopal Church in Boca Raton, Florida.
Clelia's Pharmacy has lockable metal cabinets bolted to the walls to store $5,000.00 worth of medicine she had shipped to Bondeau.
On a personal and spiritual level David Shaw calls our work in Haiti as incredibly rewarding.
"I saw poverty like I have never seen before. Everyone carries water with them. You can't live without clean water.
When life doesn't go well and I'm having a bad day. I remind myself of the people in Haiti. My problems aren't that bad."
Please call David Shaw 410-745-9338 if you would like to help out financially or email david@shawsair.com