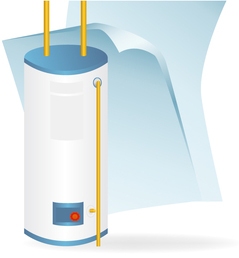 Water Heaters
REPAIR • INSTALLATION • MAINTENANCE
Domestic water heating has been around for hundreds of years; but the most common in today's society is a tank style vessel.
There are four separate fuel sources commonly used for domestic water heating, fuel oil, natural gas or propane gas and electric. There is also a growing sector utilizing solar energy to heat domestic water.
Tank style water heaters can be heated directly with oil, gas/propane, and electric. In America electric is the most common tank style.
Tank style domestic water can also be heated indirectly with oil, gas/propane, electric heat pump and solar. By indirect this means that there is a form of heat exchanger either internal or external with a heat source that does not directly come in contact with the tank and/or the domestic water itself. This could be a tank less coil inside of a boiler, an indirect water tank, a solar tank which is very similar to an indirect tank and plate heat exchanger.
Another style of domestic water heating today is by what is known as instantaneous water heaters. These are typically wall hung versions and usually power by gas/propane. There are also some electric versions but not a popular nor as efficient. Many are confused by this and believe that they will get hot water at a fixture immediately; but this is not the case. It will instantly heat the domestic water at the water heater itself but will still take as long to the reach fixture and any tank style.
Residential Water Heater Services
All major types of Water Heaters

Wall hung (Gas/propane)
Wall hung (Electric)
Indirect (Heated by a boiler)
Indirect (Heated by solar)
Typical electric
Heat pump electric
Geothermal electric

All major fuels sources - Electric, Fuel Oil, Geothermal, Natural Gas, Propane
Emergency 24/7 service/repair
Water Heater Replacement
Water Heater Leaks